"Crítica Libre", May 26th, 1996
By: Antonio Díaz
A Chiriqui-Native Botanist Cures Cancer, AIDS, Diabetes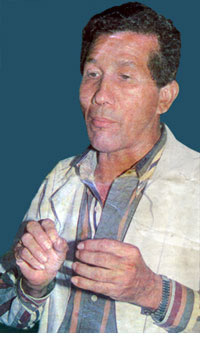 When his name became prominent in the communication media, everyone talked about him, but few talk to him. Diomedes Ureña, the botanist who cures cancer, AIDS and diabetes with his miraculously herbs, concentrates the attention of the like and strangers due to the great number of people who claim to have been cured by this Chiriquí native. Those people include physicians, musicians like Lucho de Sedas, horse-trainers like Laurentino Medina, policemen like Lieutenant Matías Gonzáles and many other citizens who had been declared terminally ill by the physicians.
Diomedes Ureña Cerceño confesses that on May, 1980, after being hit with a stone in Bayano de Chepo, he was diagnosed with a cancer and for five years, he suffered due to malignant tumors. This diagnosis was made by doctors like Edgardo Anguizola, other physicians and even folk healers.
Ureña points out the tumors "had kids" and that they ramified to his leg and rib. "I prayed God would enlighten me and I felt like the first man when he discovered the plants that people eat today. I discovered twelve classes of plants, without knowing what I was doing; but I had a future because there was nothing left behind for me", Ureña tells us.
God Gave Him that Power
Chiriqui-Native Botanist Cures Cancer, AIDS, Diabetes and Other Diseases
First part of the interview made yesterday in Arraijan to the botanist Diomdes Ureña, who enlightened by God, as he expresses, has cured with botanical treatment hundreds of people declared terminally ill by the doctors. The consult with the expert has a cost of thirty balboas (B/ 30.00), but due to the medicaments, according to what he informed.
Grad. Antonio Díaz
And Víctor Franceschi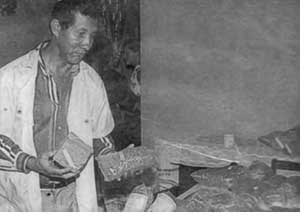 Diomedes Ureña started his first treatments of cancer by the end of the decade of the 80´s. He began to cure cancer in people of humble origins in Chiriquí, only to prove that his medicines, made using herbs of the region, cured this awful disease. And he proved it. Today, his botanical treatments and his medicines are famous. He was recently in Lita´s program, in TVN, who presented the known botanist. His notes have been published in prestigious local media and his greatest achievement came when taken into account in programs like Univision, Primer Impacto [First Impact] and in the CBC of London.
For Ureña, cancer and AIDS are curable if these diseases are treated with his medicines for a given period of time. The plants he uses for this are only known by him and, as in the case of cancer, up to one hundred and twenty (120) can be used in his compounds. These plants can be found in high locations, prairies and mountain zones of the provinces of Chiriquí, Bocas del Toro and Darién.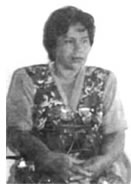 One of the cases that made Ureña famous was that of the Panamanian horse-trainer, Laurentino Medina, who had been declared terminally ill in the United States due to AIDS and who after several months of treatment says his health is fine and distinguishes Ureña as the person who healed him. Sofía Guillén was operated of breast cancer in the Oncological Hospital of Panama and was deprived of hope. With her pale face and suppurating she came to Ureña on 1990. Today, Sofía enjoys a good health, carries out her housework and feels fine. She was healed from cancer.
Like these two cases, there is an interminable list of cured people. Now, from all over the World people come to receive his treatment. However, Ureña expresses his Christian phrase: "no man is a prophet in his own land". He had to close his office in David; now, he attends in Colón and Arraiján.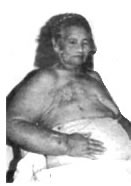 Diomedes adds: I took all the plants and started to prepare the "mejunje" [brew], as we say in Panama; I took it and felt that pain was decreasing. I drunk these plants preparation for four months approximately and got cured of the old cancer. On 1984, I cured my wife, who had tumors and cysts in her breasts. On 1987, I started with Videla Gutiérrez, who had fifty tumors in her body, between the liver and the stomach. Now she lives and is quite healthy. That´s how my healings started.
When pointing out the doubts his healings generate in physicians, Diomedes expressed: "Doctors fight, but among them because they don't dare to talk to me. I have a gift given by God; I can even know what they are thinking. But I must say that doctors have never fought with me".
Questioned about a similar attitude with priests of the Catholic Church, Ureña said that they know very little of God; they see Him and read a book, but they do not live it. I was a dead man God brought back to life on 1973, after suffering tuberculosis. I was practically dead, but I had a vision of God. Dr. Wenceslao Muñoz can tell this better than myself. There are many things that Church doesn't understand, for God is so sublime that He sends us messengers to whom we don't understand. There are many churches that call my thing witchcraft. Jesus Christ was called warlock, a sorcerer who on behalf of Beelzebub expelled the demons. I am Christian. I read the Bible, look for God and go to church. I respect God´s power.
Ureña feels God´s presence on him, pointing out that "God, for me, is as real as every improvement I make with the human being and every AIDS I cure. The discoveries are mine direct from God; something so deep with which one lives".
The consult with Diomedes Ureña has a cost of thirty balboas (Bl 30.00), but because of the medicaments, according to what he expresses. He points out that when the people are too humble, "we give them the medicaments to be cured".
"We attend over eight hundred (800) people, every month. There many people who do not understand the effort we make. I ask myself why God has chosen me for this", the botanist Ureña states. And he adds that the he has received complaints from patients to whom he leaves in good conditions with the suitable "chemo", but they are not careful and when they die, the relatives choose to blame him for something that is inevitable. The physicians and lot of people speak of chemotherapy, but they don't know what that is. Furthermore, there are those who want to demand me, after a person has died, to take them out of their place. People want to be saved, but they don't realize they are the ones guilty for the situation they are in because they don't take care of themselves.
Ureña confessed having some resentment with the physicians, because after he cures the sick people, these people go to the medical offices that had deprived them of hope and the doctors make them go back to the clinics.
The Chiriquí-native botanist reiterated that he has spent fifteen (15) years curing these people and that he wishes to work for Panama because Americans have already shown some interest on him and they want to industrialize his products. He said that Dr. Salvatierra´s brother-in-law, in Arraiján, was cured of cancer by him, despite he had been given a few days to live. According to him, he also cured Dr. Vence and his brother, both of them deprived of hope due to kidney cancer. They were healed. In El Jobo, of Guararé, he cured Bolívar Mendieta.
"I ask to the Panamanian people to support me because tomorrow this matter will not be in my hands. Others will have control and many people are going to cry", he sentenced with an expression of sadness and resignation.
Comentarios
Comentarios